COVID-19
Guidelines and Risk assessment on Keeping you safe at Mirror Mirror Hair Design
If you have any symptoms or have been around anyone with symptoms, we ask for you to please cancel your appointment as soon as possible
It is essential that you use the automatic hand sanitizer provided, located outside the premises
Please use the doorbell before entering the Salon , and a member of staff will assist you
We will be temperature checking. This is for your safety and our own. Staff will also be temperature checked before starting work every day
Please do not bring a coat or wear jewellery to the salon
Please wear a face mask whilst in the salon. Bring your own if possible, if not we will have some available for a small fee.
All staff will be wearing visors and masks and other forms of PPE. These will be replaced with fresh PPE after each client.
No walk-in appointments available.
Please arrive on time for your appointment . If you do not arrive on time you risk your appointment being cancelled.
Please come alone to your appointment. Under 12's may be accompanied by one adult.
Please can customers arrive at the salon with freshly washed hair.
Appointments have been lengthened for thorough cleaning and disinfecting between each client.
All staff members have completed the barbicide Covid-19 course.
Please bear in mind the disposable gowns do not cover you as well as our usual heavy duty gowns. It may be advisable to wear older clothes if you are having a colour service.
Hand sanitizer is available at the reception desk to use before touching the card machine, and a perspex screen is also in place.
Unfortunately no refreshments are available at this present time and all magazines have been removed from the salon. Wi-Fi is available and you are welcome to bring a kindle or your own book.
Rest assured we aim to make your visit to the salon a very enjoyable one.
You can relax in the knowledge that we have done our utmost to ensure you are in a safe environment.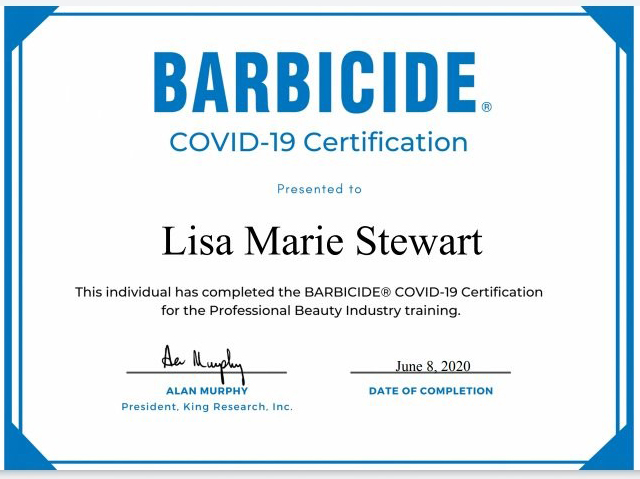 Refreshments are available in disposable cups.  Clients can only remove their face coverings to have their drink  
We look forward to seeing you all again soon From
Tracy, Lisa, Maddie and Chloe